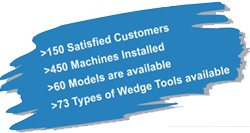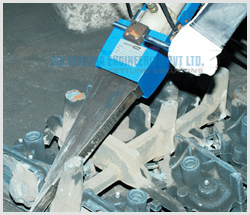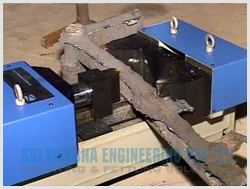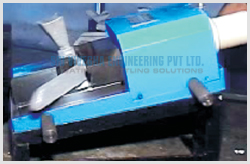 Degating Machines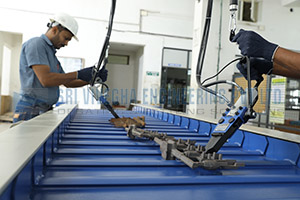 Degating Centre
Vivegha, an innovative company is manufacturing the DEGATING CENTRE (ONLINE), an unique model, to work under TIME DEFINED, FIRST IN & FIRST OUT concept in the degating operations. Here the castings are separated from the bunches and the Runners are broken in to small pieces while those are in moving on the Apron Metal Conveyor (Horizontal or Inclined) within the time limit. It can be manufactured according to the customer specifications and requirements. The Conveyor speed is adjustable (optional) to co-ordinate the Moulding Output and Shot Blasting Cycle Time. The degating can be done before/after shot blasting operations.
The Degating Machines are hanged in a Birail System and one machine can be slided maximum to the Length 1.50mtr. X Cross 1mtr X Height 1.50mtr in a single station. The Degating Centres are categorized according to the stations. The number of stations can be extended from 1 to 'n' and extensions can be done at anytime.
KNOCKUT2000TM Feeder breaker
The KNOCKUT2000TM Feeder breaker is used to remove the runners and risers of Ductitle & Grey Iron castings. It includes hydraulic system, electrical control panel, heat exchanger (Water Cooled) and Feeder breaker. The tool is very quick and easy. The Feeder breaker is powered with a special Hydraulic system. A group of several Feeder breakers can be provided with a central supply unit.
60 models of machines and 73 types of Wedge Tools are available to meet customer requirements.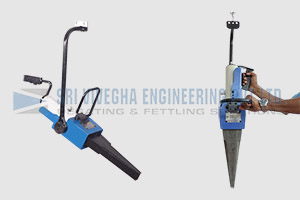 Special Features
No damage to castings
Economical operation and Tool Cost
High performance and productivity ( 1000 breakings/hr )
Labour saving
Quick, silent and safe operation
Less Physical effort
Sleek construction
Easy positioning at the right point
Maximum mobility and manoeuvrability
Wear resist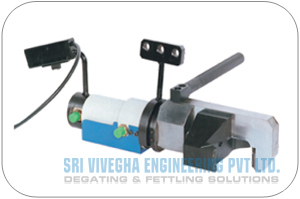 SnatchFastTM RUNNER BREAKER
The SnatchFastTM Runner breaker is used to break the lengthy runner bars of Ductitle & Grey Iron Castings to small pieces, as to accommodate more quantity of runners in the furnace. As a result the power consumption is reduced up to 20%. It includes Hydraulic System, Electrical Panel, Heat Exchanger (water cooled) and Runner breaker. The tools are made of high wear resistance special tool material.
The two models of SnatchFastTM Runner breaker are 'Hang Model' and 'Table Top Model'. The Hang Model can be used to break the Runners in the moving conveyor. The Table Top can be placed on a Table or a Trolley and used to break the runners on the floor, scrap yard and melting yard.
19 models of machines are available to suit difference sizes of runner bars.
Special Features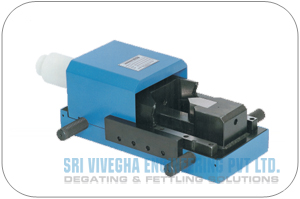 Power cost (Melting) - Saving upto 20%
Quick melting
High performance and productivity (1000 breakings/hr)
Easy feeding of runners in to the furnace
Life of furnace linings will be increased
No bridging formation inside the furnace
Unskilled labour is enough to operate
Low operation cost
Material movement can be minimized
Less physical effort
Labour dependability minimized
Easy positioning and operation