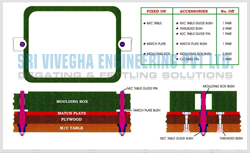 Moulding Accessories
High Pressure Mould Line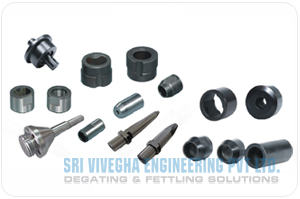 MICROFITTM Foundry Accessories
(for High Pressure & Jolt & Squeeze Moulding Lines)
Guide Pins, Match Plate Pins & Closing Pins (Round & Flat)
Bushes (Round & Flat)
Spring Loaded Spru Cups
Closing Pins & Guide Pins
Closing Pins & Guide Pins are made in high graded Case Hardening Alloy Steel which is having high Core Strength , Good resistance against wear and tear. Pins are machined, case hardened, ground and hard chrome plated accurately to attain accuarcy to the controlled dimensions.
Jolt & Squeeze Mould Line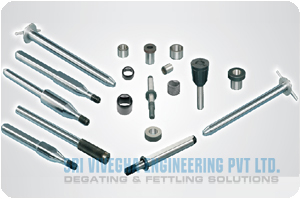 Bushes
The Bushes are used in Moulding Boxes and Match Plates. The Round Bushes are Hardened to above 55 HRC and Ground internally & externally to get accurate dimensions.The Flat Bushes are inside Broached, OD Ground and Nitrided to 300 to 400 Vickers Hardness.
Spring Loaded Spru Cups
This is Pouring Cup used to provide Feeder holes in the Mould.The Pouring Cup is released from the Mould by Spring Loaded Mechanism. The specifications of the Pouring Cups will be depends on the height of the Moulding Box and the grade of the material to be poured.